Do you have a story the public should know about? If so, send it to [email protected]
Follow me on Twitter @GeraldJBlessed
---
A 21-year-old woman who went missing four days after she was released from prison has been found dead.
The Pamlico County Sheriff's Office says the body of Rayna Novash was found Friday, June 26, 2020, in a wooded area in Northern Craven County.
Her death is being treated as a homicide.
Police say the manner and cause of death are currently under investigation.
Rayna Novash was serving a 3-month sentence when she was released on June 14, 2020. Her original charges were Possession Scheduled II.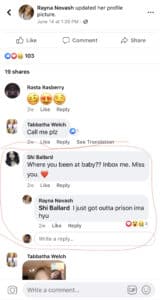 Novash went miss on June 18, 2020, four days after her release.
I am not putting her criminal history up here to bash her, but just showing after speaking with people who know her, that she could have gone back and hung out with the same crowd that possibly aided in her drug use. And if this is true, then someone she knows or hangs around may have been involved or know how she died…
Hopefully, someone who has information will come forward and give it to authorities.
With the timeline I provided you make this case strange.