Send me your story to [email protected]
Follow me on Twitter @GeraldJBlessed
---
The North Carolina Beat has learned that the Wilmington Police Department has again broadened their investigation to include the 911 call recently released to the public in the case of Paige Escalera and Stephanie Mayorga.
The 911 caller should be investigated because I believe he is a suspect in this couple's death.
One major question I do have for investigators is how do you drive North on Independence Boulevard, Paige and Stephanie are driving South, and the 911 caller can see them disappear inside of a tree from his left review mirror in a 26-foot Penske truck? Especially, when the tree that the girls supposedly had collided with is on the right side of the Penske truck as the caller drives "North" on Independence Boulevard?
Before mentioning the tree, the 911 caller says he sees the vehicle hit a wall, which would be the white Watermark Marina of Wilmington wall, that he claimed he saw out of his left review mirror.
The truth of the matter is, the 911 caller was driving South, ran the stop sign as Paige and Stephanie were coming West on River Road. I believe they swerved to their right sending them into the woods trying to avoid a head-on collision with the 911 caller.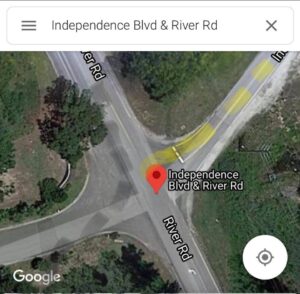 Wilmington Police said the investigation into the discovery of 25-year-old Paige Escalera's Dodge Dart, Monday, is ongoing, according to a press release. For that reason, Wilmington Police said they will not be releasing any additional information until the investigation has been completed.
This is a tragic case, and there are still a lot of unanswered questions. Not only for the media and for the public but for investigators as well. The Wilmington Police Traffic Unit has been working to piece together what happened that night, as it appears the vehicle was involved in a high-velocity crash that ended in an area of thick vegetation, the press release stated.
Sources confirmed with The North Carolina Beat Saturday afternoon that investigators are investigating the 911 call and the caller.
A press conference is scheduled for sometime next week.
I recently made a video on Facebook about the 911 caller who sounds like he would have something to do with the death of this couple, watch that below: