Do you have a story the public should know about? If so, send to [email protected]
Follow me on Social Media: Facebook, Twitter, and Instagram
---
A Wilmington, North Carolina activist is under fire after he was outed by his estranged wife for raping and physically assaulting her.
Devon Scott did not hesitate to admit the allegations and has now stepped down from the Wilmington Advocacy and Protest Organization.
In a series of posts from Lauren Scott, Devon's wife, she told the public about her rape, domestic violence, and emotional mistreatment at the hands of Devon.
You CANNOT support, condone, allow, or tolerate this man as a public figure, Lauren said. And I would question if you can support those who do. Because who he was when he harmed me is nothing compared to the polysexual predator he's capable of being now, she continued.
READ HER POSTS BELOW:
Devon said he struck and touched his wife Lauren out of anger in 2015. But we all know what Devon meant, he literally raped her.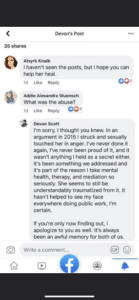 In a Facebook message and in response to the allegations, Devon said "It is rape, clear cut." (READ THE MESSAGE BELOW)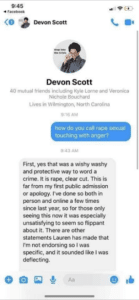 Lauren told local reporters that she came forward in July out of concern with Devon's recent activism.
Devon and Lauren married each other in September of 2014 and is in the process of separation.
It is unknown if charges will follow for these allegations being that Devon has openly admitted to these deplorable crimes. But police in Wilmington say sexual assault cases are unlikely to proceed without the cooperation of the victim.
At this moment, it is unknown if Lauren will pursue any criminal charges against her husband. However, it is up to the District Attorney's office to proceed with or without the victim.