Word in Wood Forest National Bank, a woman stripped butt booty ass naked in Wal-Mart Monday, when her debit card declined during an ATM transaction.
Donovan Davis did not film the video we will show you below, but he said he was in the store when it all went down before the cameras started rolling.
Davis said he doesn't remember the Wal-Mart he was at because he was stopping by on the way to Raleigh, North Carolina, but did see the video on social media and commented, which is how The North Carolina Beat located Mr. Davis. He said that while he was shopping, he heard screams coming from the front of the store and people started running towards the front. When he got to the front, Davis said he witnessed the woman inside Wood Forest National Bank with papers all over the floor as she continued yelling to the top of her lungs.
Another woman who wishes to remain anonymous said that the woman's card had declined, and she took a bat that she had and started hitting the ATM.
A Facebook story post from a woman said that for everyone thinking that this woman was having a nervous breakdown, she wasn't. The post said that the unidentified woman in the video had planned this whole thing out. The post continues and says that the woman contacted Greenville Police Department and told them what she was about to do and that if she had a gun, she and three other families would have gotten hurt.
READ POST BELOW: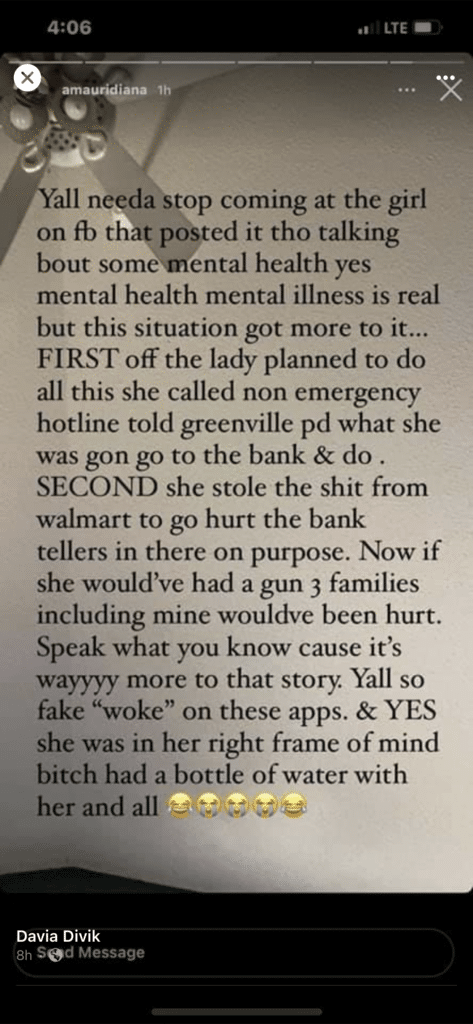 So, we have three different stories, but it sounds like she is mad about something. It's kind of what kids do when they go in a store and can't get what they want. They act like they about to pass out, yelling, screaming, and knocking shit off the shelves. But, some people believe she's having a mental breakdown.
WATCH THE VIDEO BELOW:
We reached out to Greenville Police Department and is awaiting comment.
The woman has not yet been identified.