Do you have a story the public should know about? If so, send it to [email protected]
Follow me on Twitter @GeraldJBLessed
---
A former employee of a Bojangle's in Greensboro, North Carolina is getting a lot of support after she said three white men spat at her, and called her a Black bitch.
On Wednesday, June 10, 2020, Keisha Tibbs, an employee at Bojangle's on Pisgah Church Rd was working her night shift when three white men pulled in the drive-thru to order. The men ordered food but no drinks. When they pulled around to the window Ms. Tibbs was at, they demanded free drinks.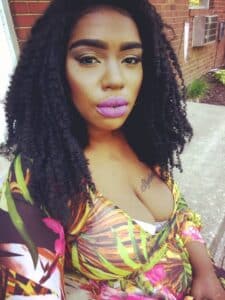 Ms. Tibbs told the men that she could not give them free drinks and that they had to go back through the drive-thru to order them. (I'm sure the men could have paid for the drinks at the window at that moment) The driver of the vehicle called her a "Black bitch" and attempted to spit on her but missed.
At that point, Ms. Tibbs informed her general manager about the incident but was told that she needed to get back in the drive-thru and get the line down. The three men then left from the window and went back around to the drive-thru. However, the customer that was behind the men had called the store and informed the general manager about what they had just witnessed the three men do to the young lady.
The general manager after receiving the call from the customer behind the three men in the drive-thru proceeded to meet the men at the window and gave them free drinks.
After the men got their food and free drinks, which was initially denied by Ms. Tibbs, the men sat in the parking lot of the restaurant for nearly an hour waiting on Ms. Tibbs to clock out of work. She tried to finish her shift that night but became overwhelmed with emotions and quit.
WATCH THIS VIDEO OF THE CALL TO BOYCOTT ALL BOJANGLE'S IN GREENSBORO BELOW:
Bishop David Callands, a spokesman for Ms. Tibbs she "pretty much told them they couldn't have free drinks. They would have to go back through the line and order and that's when they called her out of her name and they spat toward her."
I wouldn't call it a racial slur but they used the derivative for dog, he said.
Callans said Ms. Tibbs quit because Bojangle's didn't call the police and also because the three customers were eventually given the free drinks.
Not all the time is the customer right, Callands said. Sometimes the customer is just wrong, and we have to voice that wrong to protect people.
The incident has led to peaceful protests outside of the restaurant and a 30-day boycott of the restaurant, according to Callands.
More employees of the Pisgah Church Bojangle's walked off the job after the incident.
A demonstration is scheduled outside of the E. Bessemer Bojangles location on Saturday, June 27, 2020, unless they get a direct apology from the company.