Robeson County Sheriff Burnis Wilkins has fired one of his deputies after learning a 'rumor' that the deputy was heading for his job.
But while Sheriff Wilkins was fed information, that sheriff's deputy was recovering from an accident that could have taken his life, and yes, it was in the line of duty.
On August 31, 2020, Deputy Scottie Deese who is also an injured war veteran who served as a combat engineer in the Army and his partner were stopped to assist a traffic stop with an N.C. highway patrolman when a vehicle speeding about 90 MPH rear-ended his patrol car.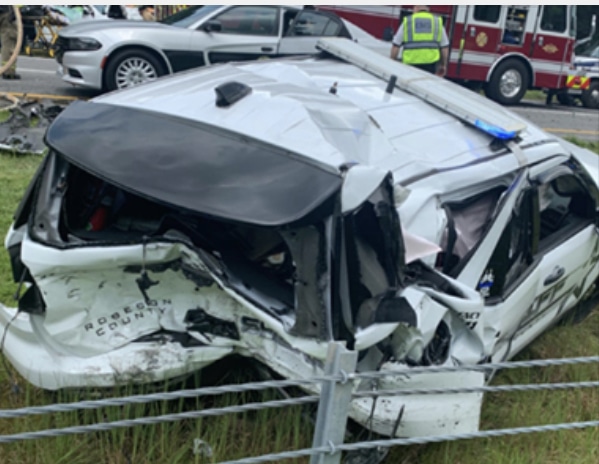 Deputy Deese suffered a concussion, a busted right shoulder, an injured neck and back, and an injured left knee. According to Deputy Deese, his right shoulder was his most significant injury, leaving his doctor to suggest that injury looked as if he was shot from behind with a shotgun.
During all of this, depression started sitting in with Deputy Deese, and he realized that his department lacked the sympathy and empathy he thought he would have received since he was one of them. Deputy Deese said he thought Sheriff Wilkins was his friend, and in the four months he has been out due to his injuries, the sheriff has not checked on him.
That's all because Sheriff Wilkins had a grudge against Deputy Deese. After all, rumor had it that Deputy Deese would run against Sheriff Wilkins in the next election.
Deputy Deese told another outlet that Sheriff Wilkins lives seven houses down from him and still hadn't come to see him.
He couldn't go seven houses to check on me. Seven houses, he said. That's walking distance, man.
In a letter to Deputy Deese with no explanation, Sheriff Wilkins told him that his services were "no longer needed." Deputy Deese said he was also told to turn in his service weapon and badge.
I believe before you do something, you should know the laws surrounding it, and instead of Sheriff Wilkins doing the proper research, he had to get Deputy Deese out of his hair.
But Sheriff Wilkin's decision could cost him and the county some big bucks if Deputy Deese decides to pursue all legal remedies available to him regarding this situation.
Yes, in North Carolina, you can terminate someone without cause, depending on the circumstance. Although, Sheriff Wilkins had every right to terminate Deputy Deese but not while he is out on an active worker's compensation case.
Still, Deputy Deese doesn't know why he has been terminated, especially since Sheriff Wilkins has made many public posts about Deputy Deese being one of his best employees. The two were so close that Deputy Deese helped Sheriff Wilkins and his wife construct their rental home properties, many times with no compensation.
Deputy Deese did say he planned on running for sheriff, so the rumor was right, but only after Sheriff Wilkins retired.
Deputy Deese said he was going to run, but out of loyalty for his friend, Sheriff Wilkins, he would wait until he retired. But now, the wait is over.
I'm not waiting anymore. In 2022, I'm running for Sheriff. He fired me for no reason; I don't owe him anything, Deese said.
Earlier today, Sheriff Wilkins made a social media post saying that he did not terminate Deputy Deese for personal reasons, preferably a professional perspective.
The North Carolina Beat will be investigating this termination and requesting all personnel files including but not limited to the disciplinary file of Deputy Deese, to learn why Sheriff Wilkins terminated him.
If you have more information that could be added about this story OR have a story, please email me at [email protected] and also follow me on Instagram @ItsGJTheCEO