A Fayetteville, North Carolina woman says she was told "Black Lives Don't Matter" and was called an ignorant bitch by Fred Prosperi, the owner of Fred's Automotive located at 3219 Fort Bragg Rd. in Fayetteville and The North Carolina Beat has the video.
On Thursday, June 17, Tiffany Carroll said that she and her boyfriend were on their way home when they came off Cain Road to an intersection that leads to Fort Bragg Rd and met behind a truck stopped in the road, blocking their path. She said as their car came to a complete stop, the truck throws their vehicle in reverse, and her boyfriend honks the horn to get the driver's attention. However, as her boyfriend is honking the horn, she said the driver of the truck continued backing up and backed up on the hood of their car.
After the truck hit their car, Carroll said the driver pulled into Fred's Automotive Shop, where her boyfriend and the driver of the truck had words about the accident. Carroll said she couldn't hear the conversation because she stayed in the car on the phone with 911.
Carroll said that while on the phone with 911, she saw a blue Cadilac pulling into the automotive shop, which she found out was the driver of the truck, wife. She said as the woman got out of the car, she could see the driver of the truck pointing his fingers at her boyfriend's face. Caroll said that's when she got out of the car, and her boyfriend told her that the man claimed they drove into him.
His wife started saying something and I told her that she doesn't know what happened because she wasn't here, Carroll said. She started blanking on me talking about, 'this my motherfucking husband, and come correct before you talk to me.'
As Carroll was still on the phone with 911, her boyfriend was still having words with the driver of the truck about who caused the accident.
Police obtained nearby video surveillance that clearly shows that Carroll and her boyfriend were victims.
In the picture below, Jon Robarge, a Fire Fighter in Fayetteville, is accused of assaulting Carroll and sticking his middle finger up at her and her boyfriend. Carroll said that when Robarge came out of the shop, he was followed by two men. One of those men was the son of Fred Prosperi, and the other man is unknown.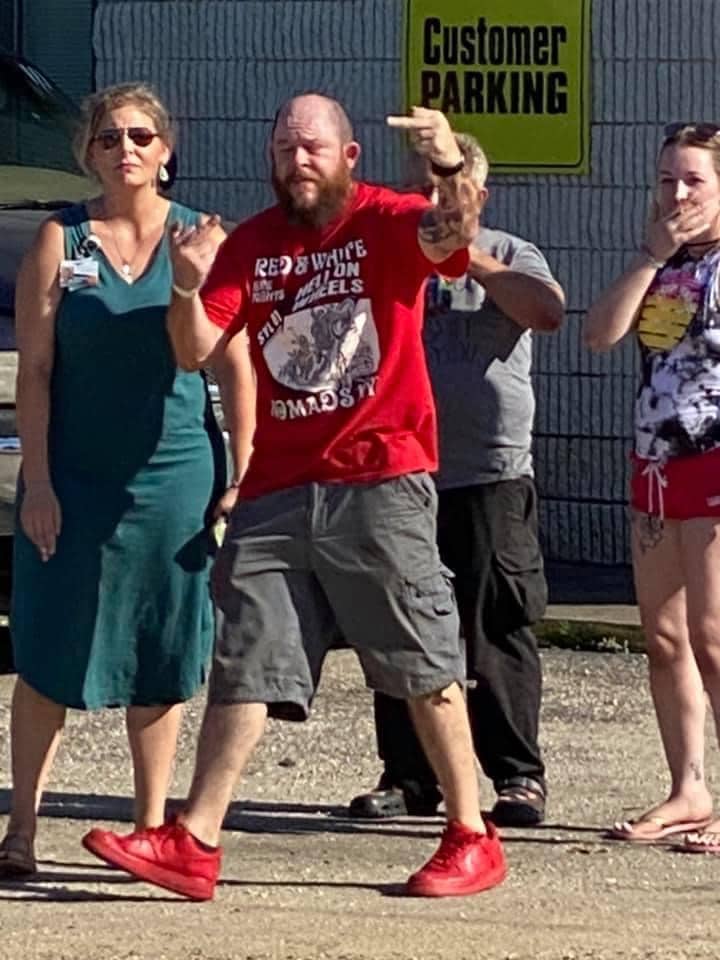 Carroll said Robarge was trying to find ways to get to her boyfriend so he could fight him, but as she kept pushing her boyfriend back, Robarge allegedly assaults her. After Robarge assaulted her, she said the other men who came with him pulled him back to keep him from assaulting her. That didn't help, because Carroll said she was assaulted a second time by Robarge, and that's when the two men then stood between her and Robarge, pushing him back to keep him from assaulting her a third time.
According to Carroll, Fred's girlfriend comes out of the shop asking, "Omg, did someone get hit?" and approached her boyfriend, asking him what happened. She said that while her boyfriend is talking to the owner's girlfriend, Fred comes out, pushes his girlfriend, and says to her boyfriend, "motherfucker, you don't talk to her like that."
Carroll said her boyfriend was not talking disrespectfully to Fred's girlfriend, and in the video, you will see and hear Fred's girlfriend deny that she was being disrespected. It seems like Fred just wanted to start some shit with black people that day.
He told us to get the fuck off his property and that Black Lives don't matter here, Carroll said.
At that point, when Fred says Black lives don't matter, his girlfriend yells, "Yes, they do," and us here at The North Carolina Beat is saying it to, BLACK LIVES MATTER.
Not only did this sleazebag say Black lives didn't matter, but he called Carroll an ignorant bitch and said that his girlfriend like those kinds of guys, referencing Carroll's boyfriend.
WATCH THE VIDEOS BELOW:
It's simple, Fred is racist, and he was mad that his girlfriend said that Carroll's boyfriend did not yell at her and thinks his girlfriend likes black men. So what if she does. The videos clearly speak for themselves.
Make sure you leave a review on Fred's Automotive Shop Facebook page and Google page.