Onslow County Sheriff Hans Miller could possibly face charges if pursued by local authorities after he wrecked his county-issued vehicle and failed to report the accident earlier this month.
Sheriff Miller claimed to reporters that on February 9, 2021, he was driving on Western Boulevard going to a meeting just after dark when he cut a corner a little too short, saying the accident was due to fog on his windshield and limited visibility.
To verify his claims' validity, Sheriff Miller refused to say what meeting he was going to, the time of the meeting, or where the meeting was taking place. The sheriff also declined to give the make, model, or year of his county-issued vehicle.
Was the sheriff really going to a meeting?
In North Carolina, it is against the law for ANYONE, including the sheriff, to not report a reportable accident to the police, according to G.S. 20-166.1.
Any person(s) who fail to report a reportable accident is guilty of a Class 1 misdemeanor.
A reportable accident is a crash that results in (1) a person's injury or death, (2) property damage of at least $1,000, or (3) property damage to a vehicle seized pursuant to G.S. 20-28.3 for forfeiture in an impaired driving case.
The damages caused by the sheriff are over $3,000, which the statute above in (2) makes it a chargeable offense because the damages to the vehicle are over $1,000.
But will the sheriff be charged? Probably not.
Onslow County Manager Sharon Russell says that Miller was not required to make an official incident report because Onslow County taxpayers will not foot this bill, he will.
An incident report is solely for the victim. In this case, Miller is not the victim because no one hit him. He was the cause of the accident, which has no police report on file, which makes it against the law because he failed to report the accident.
Even if Miller did make an official report, Onslow County Manager Sharon Russell said they still would not pay for the damages.
We will not require an incident report in this case, because the county is not paying the repair bill or filing insurance, Russell said.
Sheriff Miller said he takes full responsibility for the damages and will repair them on his dime.
The damages totaled around $3,600.
In 2018, during Hurricane Florence, Sheriff Miller willfully drove his county-issued vehicle into floodwaters, which was replaced. (Photo below)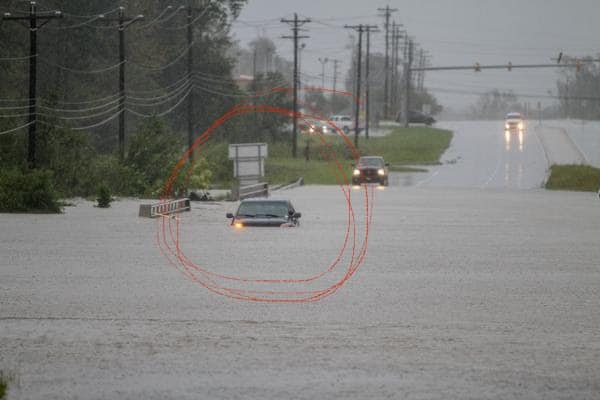 This new incident makes it Sheriff Miller's second time damaging a vehicle paid for by taxpayers.