An Onslow County, North Carolina candidate for Board of Education who lost terribly in the local primary election is spreading false information on social media about the upcoming local general election.
Crystal Christy Lopez, a Republican Board of Education candidate in the Onslow County local primary election on March 3, 2020, has decided that she will interfere with the upcoming general election on November 3, 2020, by telling voters to write her in. However, legally she can not run as a write-in candidate.
Since the primary election, Lopez has been miserable with the election results, resulting in a loss that would only allow her to re-run the next election. Lopez had a total of 5,087 votes, which resulted in her losing. But before each candidate can run for a public office, they must complete and sign a (Notice of Candidacy) form and submit it to their local election office. Upon completing the form, each candidate has to pledge that they will not run for the same office as a write-in candidate in the next general elections if they lose in the primary.
LOOK AT LOPEZ VOTING RESULTS IN THE MARCH 3, 2020 PARTISAN PRIMARY ELECTION BELOW: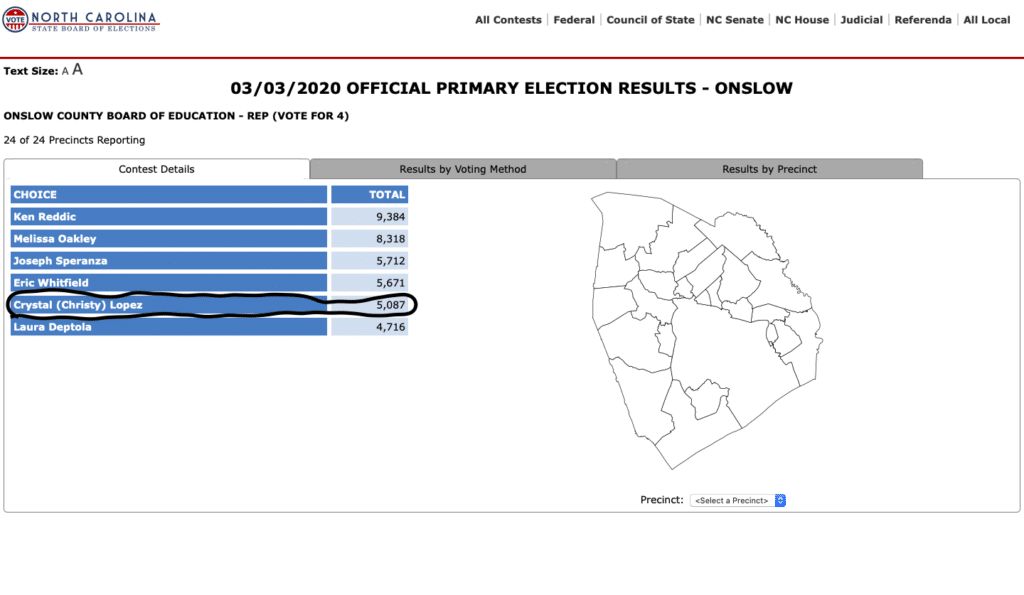 Lopez pledged and signed the form, as it was the only way she could become a candidate, but the failed candidate believes she can still run as a write-in.
READ THE PLEDGE THE CANDIDATES MUST SIGN BELOW: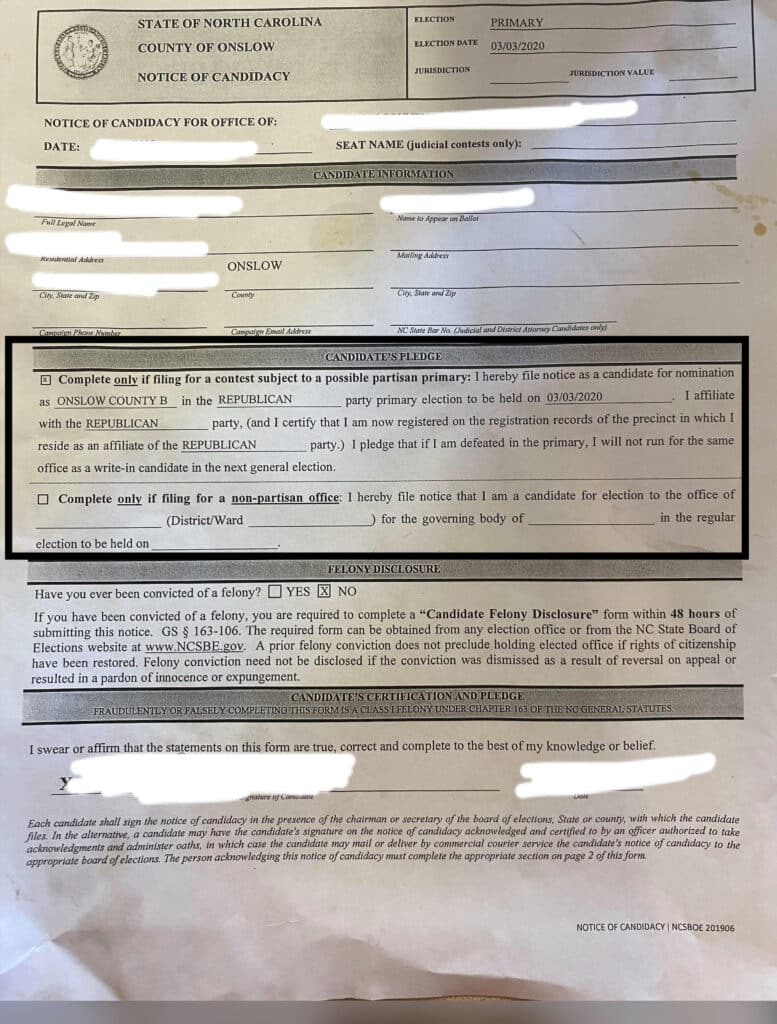 Onslow County Board of Elections Director, Jason Demond, said North Carolina G.S. 163-123(c) outlines a qualifying procedure for a write-in candidate and Lopez doesn't qualify.
She doesn't qualify to even go through that procedure as a write-in candidate because she ran in a partisan race and lost in the primary, Demond told The north cAROLINA beat.

When you run in a partisan race, and you lose in the primary, you actually sign a pledge that if you lose in the primary, you will not run in the general, Demond said. Even if there was a write-in section and she got write-in votes and got enough to be seated, she will not be seated because G.S. 163-123 (e) covers it all.
North Carolina G.S. 163-123 (e) says, "Defeated Primary Candidate. – No person whose name appeared on the ballot in a primary election preliminary to the general election shall be eligible to have votes counted for him as a write-in candidate for the same office in that year."
On July 23, 2020, Lopez posted on her "Christy Lopez for Onslow County School Board" social media page that she would hire an attorney to challenge N.C. Board of Election Law in this matter if warranted.
READ LOPEZ POST BELOW: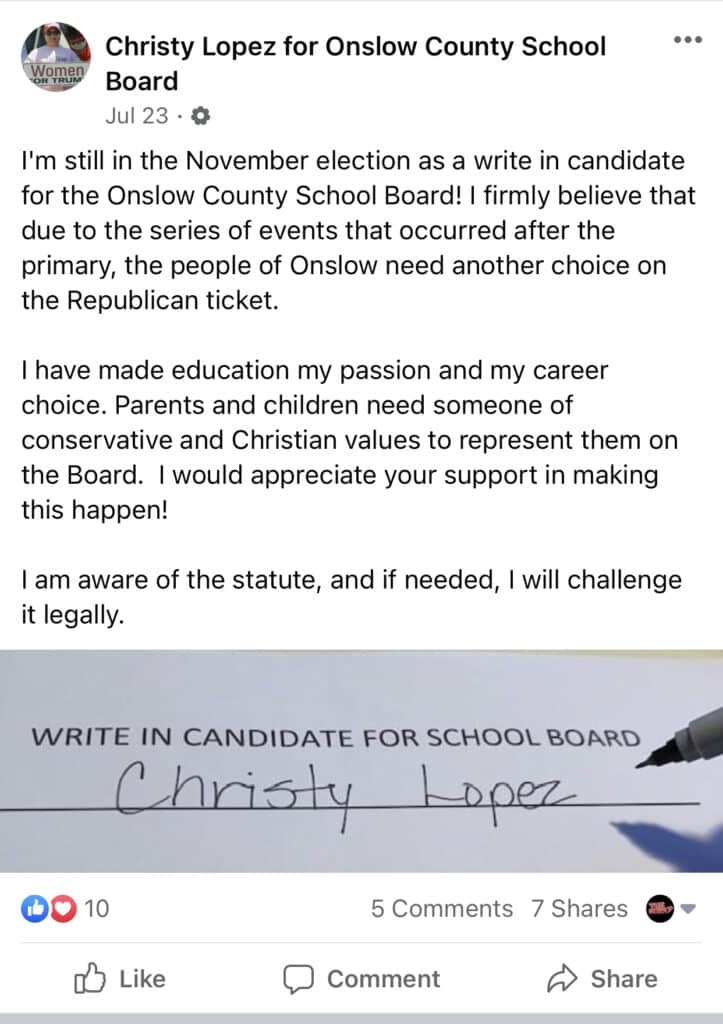 Voters in Onslow County should know that Chrystal Christy Lopez will not be a candidate or a write-in for the Board of Education.
Demond said that even if voters were to scratch out a candidate's name and write-in Lopez's name, she would not get the vote, instead, it will go to the person whose name was scratched out. (Because you would still have to shade in the bubble) However, Lopez and her campaign are encouraging voters to write-in her name on the back of the ballot, which still won't be counted, according to Demond.
The system is designed to know the candidates and know what order the candidates are listed as on the ballot and also know which bubble is circled for whichever candidate a voter chooses, Demond said.
Demond made it clear that there were no Board of Education candidates in Onslow County that qualified to run as a write-in, so, therefore, there will be no write-in placement on the ballot.
Voters, you must know the difference between a ballot with a write-in placement and one without. We have provided you examples below; both models come from sample ballots for the November 3, 2020, general election.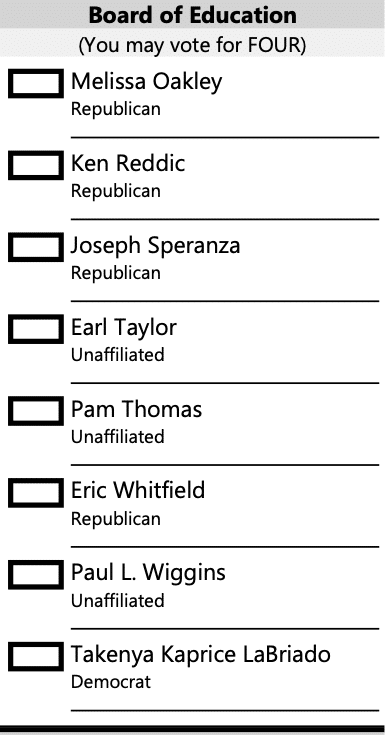 Onslow County voters must know that their children's education matters and that they need people seated that will fight for their child and their education. Lopez has confused voters because she is too afraid to lose, but sadly as an adult, Lopez doesn't know that losses come with life.
The misinformation and lies spewed by this failed candidate have deterred voters from looking into the other candidates as their choice because Lopez wanted the ballots to be thrown away.
Lopez knows she can't run as a write-in, and she believed that if voters still wrote her in, the ballot would be a waste, but according to Onslow Board of Elections Director, Jason Demond, it won't be.
Good luck to all candidates!