A man has been arrested in Indianapolis after killing four of his baby mama family members because she would not give him half of her stimulus check.
Jeanettrius Moore, who recently received her stimulus of $1,400 and probably more because she had two little girls' crazy boyfriend, came and took what money could never replace, her loved ones, including her 7-year-old child.
Malik Halfacre, the father of Moore's youngest child, hit up Moore Friday and told her that he should get some of the stimulus money, in which Moore said to him that he did not deserve it because she takes care of their child and he does nothing.
He wanted some of Jeanettrius' tax money, stimulus money, said Wendy Johnson, a cousin who spoke to Moore about the shooting Saturday night. She had just got her money, and he wanted half of her money.
The shooting happened in the 300 block of Randolph Street Saturday night.
She said, 'No, you don't deserve any of this. I work. I take care of our child. You don't do anything.'
"He said, 'I really want half.'
"She said, 'I'll give you 450. Take it or leave it.'
"He said, 'I'm gonna get that money.'
On Saturday, Moore was outside at the curb watching her car when Halfacre walked up.
According to police, Halfacre came back after leaving, and when he came back the second time, four people were killed. He killed them.
Moore's 7-year-old daughter, Eve Moore, her brother, 23-year-old Daquan Moore, her mother, 44-year-old Tomeeka Brown, and her cousin, 35-year-old Anthony Johnson, all were killed.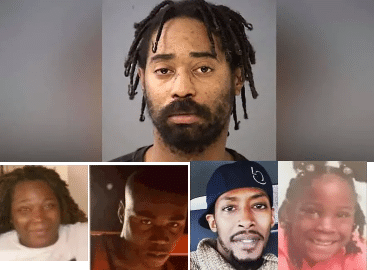 Damn…
Halfacre is said to have come in the house asking for the money and started going through Moore's purse.
Daquan was trying to save his sister. He was taking up for his sister, said Johnson. He stood up and said, 'You cannot have the money. You cannot have her money.' That's what she said and pushed Malik, and Malik pulled out the gun and just started killing everybody.
Johnson even goes deeper into the shooting.
He shot Daquan first. He shot Anthony. He turned around, and he shot my Auntie Tomeeka. My Auntie Tomeeka said, 'Malik!' and he shot her again. He came back and shot Daquan for the second time and somewhere between little Baby Eve got hit somewhere and she was screaming, she was screaming.
After Halfacre killed everyone in the house but Moore and his own daughter, he took them outside to the car, strapped the baby in the car seat, ran back inside to grab a milk bottle, and drove off.
He went back in the house, and that's when he shot Anthony again when he was coming down the steps, said Johnson. When he went in the house, that was Jeanettrius' cue to run for her life, and that's what she did. Ran for her life in traffic across New York Street and knocking on everyone's doors.
Several hours later, the couple's baby was recovered unharmed on the city's northeast side while almost 24 hours after the killing, following a four-hour-long SWAT standoff on the east side, Halfacre emerged from a duplex in handcuffs after hiding in an attic to avoid several volleys of tear gas that had been fired inside.
Halfacre was accused of shooting a man five times on the city's northwest side in early 2017 but was released from custody in 2018 after pleading guilty to a lesser charge.