A 21-year-old Raleigh, North Carolina man, was hit with a lot of charges after he allowed his deadly zebra cobra snake to escape from his parent's home in late June.
Christopher Gifford was hit with 36 misdemeanor charges.
The zebra cobra snake, an African snake, put fear in Raleigh communities knowing that the deadly cobra could spit venom up to nine feet. The snake was first spotted on a porch on June 28 before it was caught a half-mile away from Gifford's home by Raleigh Animal Control on June 30. According to local news reports, on June 29, authorities searched Gifford's home and removed something in a large plastic bucket.
Gifford is a TikTok user with a following of nearly 500,000 people. His videos feature him handling venomous snakes. He was bit by a green mamba back in March, which required him to get anti-venom from a South Carolina zoo. The kid is just foolish if you ask me.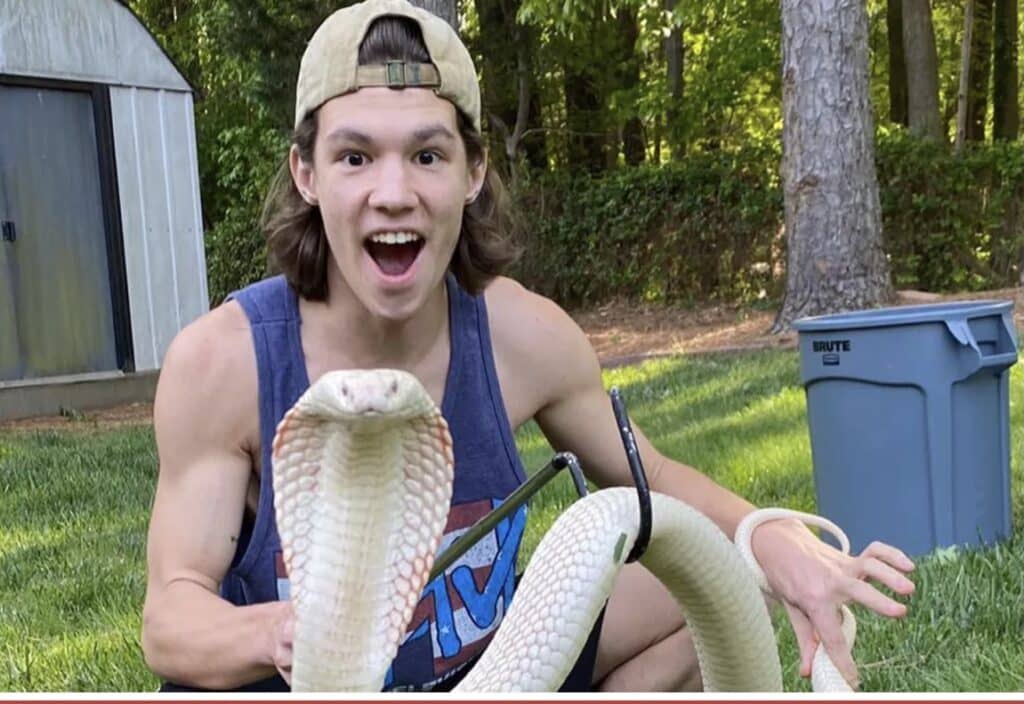 He faces 36 misdemeanor counts for keeping venomous snakes in improper enclosures and three charges for having them in mislabeled containers. According to court documents, Gifford was also charged for not notifying the police about the escaped cobra, which is required by state law.
In North Carolina, no law prohibits people from keeping, breeding, or selling non-native venomous reptiles, but there are regulations on how they should be kept and reporting escaped animals.
This dude puts people's lives in danger every day; he handles these deadly snakes just for TikTok fame, and the fact that he didn't even call the police to report that the snake was missing is even more stupid if you ask me.
Raleigh City Council Member David Knight said he plans to introduce an ordinance restricting ownership of wild animals, including venomous snakes, following the cobra's escape. Police had not said precisely when Gifford's pet got out, according to the report.
State Sen. Wiley Nickel, meanwhile, said he plans to propose legislation creating a new state law in coming weeks, saying the incident was a "wake-up call."