Do you have a story the public should know about? If so, send it to gjackson@thencbeat.com
Follow me on social media: Twitter, Facebook, and Instagram
---
STORY WAS UPDATE TO CORRECT CHURCH NAMES
A Knightdale, North Carolina pastor is on a Facebook blocking spree to stop the spread of awareness about his church allegedly exposing members and guests to the coronavirus.
Pastor Vontrell Johnson of Evolution Empowerment Ministry is under fire after some say he hosted a recent church conference knowing that members of his ministry tested positive for COVID-19.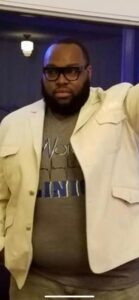 The number of positive COVID-19 cases at Evolution Empowerment Ministry is unknown, but one member who tested positive for the virus said that Pastor Johnson knew they were positive and still forced them to come to church.
It was one of them obey your leader type of ordeals, the member said.
The member told The North Carolina Beat that after Pastor Johnson found out, he did not close the church to clean it, nor did he alert any other member to go get tested.
The Pastor of Greater Tabernacle of Praise located at 8924 Buffaloe Road allows Pastor Johnson to host his services at their church.
After knowing that at least one member in his church tested positive for COVID-19, Pastor Johnson, on June 25, 26, and 28, hosted a "The Evidence Encounter" 2-day conference with Sunday's Best contestant, Evangelist Tiffany Andrews.
Christina Andrewz, who attended the conference on June 25 and June 28, said she was rushed to the hospital on June 29, due to cough and shortness of breath. She said she was unaware prior to attending that members of the ministry had allegedly tested positive for COVID-19. Andrewz took to social media Thursday to announce that because of her attendance at the aforementioned services, she now has COVID-19.
YOU CAN SEE HER FULL FACEBOOK POST BELOW: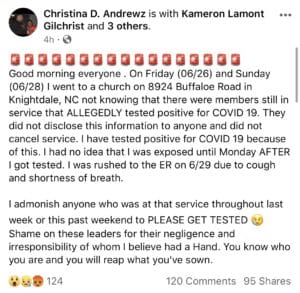 This move from Pastor Johnson is clear evidence that he does not have wisdom nor the power to heal the bodies of the people that have allegedly been exposed to COVID-19 at his church. It seems like profiting off the people of God was more important than their health. Hopefully, he made enough money to pay those who came to his church and caught RONA!
The North Carolina Beat reached out to Pastor Johnson Thursday morning and he said he couldn't legally speak on the matter and that he would be releasing a statement soon.
Hopefully, his statement will be an apology and that he takes full responsibility for his lack of concern for the people of God.
Pastor Johnson should have known that 100 people wouldn't have been able to practice social distancing in his "25 Member" church…but I digress.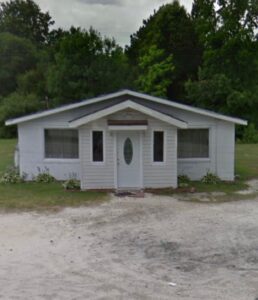 This is what happens when PREACHING for the BAG goes wrong, Pastor Johnsonnnn.
Look at all those people in this small church. NO MASKS, NO SOCIAL DISTANCING, NOTHING BUT RONA FLOATING BODY TO BODY LIKE A POSSESSED SPIRIT. JeeeeSUS!
Hopefully, those who attended any of Pastor Johnson's services at Greater Tabernacle of Praise Church in the last month will go and get tested.