Have a story the public should know about? Send it to me at [email protected]
Follow me on Twitter @GeraldJBlessed
---
In October of 2013 in Angier, North Carolina, Army Veteran Christian Griggs, 23, had gone to his father-in-law's home to pick up his daughter as planned, so she could meet her great-grandmother for the first time. 
When Griggs arrived at the home, his father-in-law, Pastor Pat Chisenhall would not let him see his daughter. Right after, Griggs called his father and told his father what was happening. His dad, Tony Griggs came to Chisenhall's home, and when he arrived he saw his son Christian lying face down on the front porch with six bullet wounds.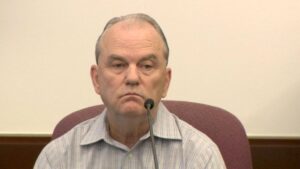 Christian was shot once in the stomach, once in the shoulder, and four times in the back from an upward trajectory, suggesting Christian was bent parallel to the ground or lying down when he was hit.
In 2015, Christian parents, Dolly and Tony Griggs filed a wrongful-death lawsuit against Chisenhall, arguing that four shots to the back shouldn't be considered self-defense. The civil jury ruled in the Grigg's family favor and ordered Chisenhall to pay the family $200,000 for Christian's wrongful death, citing that he did not act in self-defense.
Chisenhall told police that Christian, his son-in-law was trying to break into his home and he felt threatened and needed to protect him and his daughter. Police bought his story and closed the case within 24 hours without any investigative work being done.
Christian was shot six times but only three shell casings were found piled neatly beside a couch inside the home.
What happened to the other shell casings? 
Chisenhall admitted to police that he fired all six shots from inside while Christian was on the porch outside but there were no bullet holes in the curtains, shutters, or window frame.
An autopsy conducted revealed that Christian was shot four times in the back, either lying face down or crawling on his hands and knees.
No criminal charges were filed in the case because Harnett County District Attorney, Vernon Stewart refused to do so. The family of Christian reached out to the SBI at the time and they could not touch the case unless the district attorney and the sheriff agreed to bring them in to take over the investigation. Well, that never happened.
Christian was in an interracial relationship with Chisenhall's daughter. 
In 2015, Tony Griggs told local reporters that had he shot Chisenhall's daughter six times, he would have been jailed.
The DA has what is called prosecutorial discretion, but at some point, discretion falls off and it becomes discrimination, said Tony Griggs. Had I perpetrated the same act and shot his daughter six times on my front porch, there's no doubt in my mind I would have been arrested that day. There's no doubt in my mind and I should have been arrested that day because that is what the law says.
With the recent killings by police of unarmed Black men, this case recently reignited. Not that Chisenhall was a White police officer because he wasn't, but because Christian was a Black unarmed man.
A petition started has gathered more than 2,000 signatures and is asking Governor Roy Cooper and Attorney General Josh Stein to intervene and bring criminal charges against Chisenhall for murder.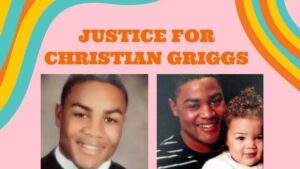 Christian family says he was a remarkable father, son, brother, and friend. He was a veteran who served our country honorably in Iraq, and he should be alive today.