Follow me on Twitter@GeraldJBlessed, Instagram @ImGJTheCEO, and if you have a story, please send it to newstip@thencbeat.com.
A Charlotte, North Carolina teacher, should be suspended after a video sent into The North Carolina Beat shows her using chocolate cake icing on her face, symbolizing the racist black face.
For those of you who don't know, the black face was used by white performers to demean and dehumanize African Americans.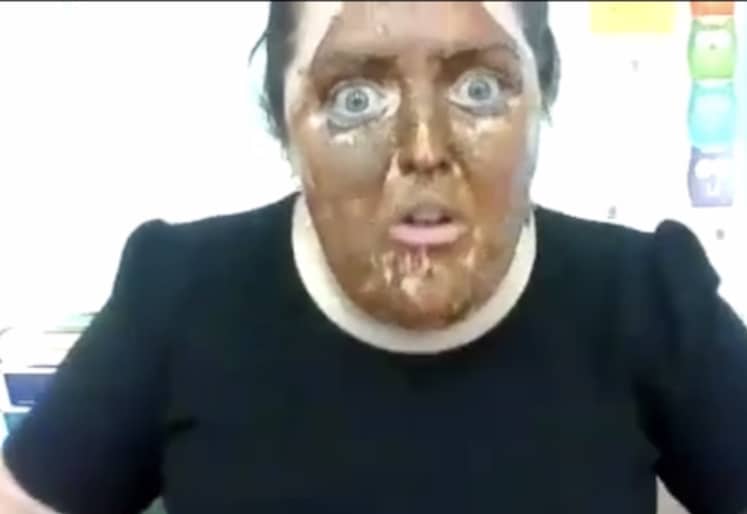 On Monday, we received information from a concerned parent who has a child that attends Greenway Park Elementary School, where the teacher, Megan Adams, works. Adams was doing a "cake in the face" for her second graders, but it seems like after one comment made by a student, Adams knew what she was doing. This was disturbing and racist.
In the video, if you listen closely, you can hear some of the students say that she looked dirty and black, but when one of the students said she looked black, Adams had a smirk on her face. Again, she knew what she was doing. DISGUSTING!
Watch The Video Below:
I don't know why Adams thought this was funny or a cool idea, but it wasn't. As an educator, no child should feel dehumanized or demeaned. They shouldn't be coming to school seeing their white teacher putting black icing on her face. As a grown-ass woman, I'm sure that she knows about racism, and she should not be doing anything like this.
I cannot understand what came to this brat's mind for her to think this would be a good idea.
Did you all see that smirk when the student said she looked black? Whew, chile.
The concerned parent said that her child brought the video to her attention because it was disturbing.
My child brought this to my attention because they didn't feel right about what happened, and if a second grader knows that this is wrong Mrs. Adams should beyond a shadow of a doubt know that this is wrong as well. This behavior is unacceptable, the parent said.
We reached out to Adams and her principal, Andrea Runyon, for comment and haven't heard anything back yet.
Email Greenway Park Elementary School principal, Andrea Runyon at andream.runyon@cms.k12.nc.us. and tell her to fire Megan Adams.