A North Carolina dental office may lose business, not due to the Coronavirus, but because they fired a woman who was ordered by doctors to quarantine.
Macy Roden, who worked at KOS Endodontics in Hickory, North Carolina said she was fired by her boss Dr. Alexander Kutuza after being ordered to quarantine pending test results of COVID-19.
Roden said she went to the emergency room with flu symptoms Saturday. The flu test came back negative but her symptoms continued. She said that's when the hospital tested her for the coronavirus.
My COVID test was sent off and it could take 4 to 6 days because they don't have the ability to do the rapid test yet. They did quarantine me on Monday, March 16th until the 30th or until my test comes back negative.
Roden said she was a dental assistant and immediately sent over medical documentation and a quartine order to her employer.
She received a late-night text message from Dr. Kutuza, her employer,  firing her.
It basically says we regret to inform you that we no longer need your services and you're no longer working for us as of today. I sai so you're terminating me because I am quarantined by the hospital? Because I could be jeopardizing other people's health?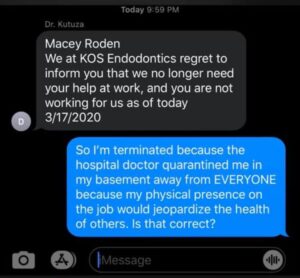 Roden says she feels like she's never done anything to jeopardize her job. "It just seems fishy," she said.
FMLA and ADA laws may protect some COVID-affected employees from termination, but usually only in severe cases, and likely only for confirmed positives.
Some say Roden's firing is not fair, and that they stand with her in whatever action she decides to take against her employer.
We are in people's faces, we're in their mouths touching and I don't think it's fair. If it wasn't for my tax money and me paying my bills ahead of time with my tax money I would be really screwed right now. I just feel like it's not right.
The Federal FMLA provides employees up to 12 weeks of protected leave in the case of a serious health condition. It's unclear whether being under quarantine for a presumed or confirmed COVID-19 case qualifies.
What do y'all think about this firing?