Do you have a story the public should know about? If so, send it to gjackson@thencbeat.com
Follow me on Twitter, Facebook, and Instagram
---
A Grifton, North Carolina pastor was arrested and charged for beating his wife a day before the 4th of July.
He is known as Apostle Dalton Devish Wiggins, the Pastor of Greater Day Church of Deliverance located at 6476 N. Highland Blvd. in Grifton, North Carolina but now Wiggins will forever be known as a WOMAN BEATER.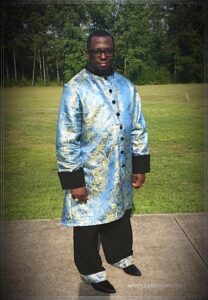 Wiggins is another "Pastor" who thinks he can verbally and physically abuse his wife without anyone knowing, but this time his SINS has found him out. 
34-year-old Apostle Dalton Devish Wiggins was booked into the Pitt County Jail on Jul.3 for assaulting his wife, Ericka Wiggins.
The story as to what led "Apostle" Wiggins to assault his wife is unknown at this time. But apparently, Ericka did have enough evidence that substantiated the charge of assault. 
The North Carolina Beat obtained a video posted on Ericka Wiggins Facebook page of her husband, "Apostle" Wiggins threatening to use a hammer to break her phone and her head. 
In the video, "Apostle" Wiggins calls his wife a 'sneaky bastard' and says "Ima take that phone, take a hammer and BUST it open right along with your head."
So, to those who think he may not have assaulted her, he sure did say what he was going to, and probably made sure she couldn't record it. 
WATCH THE VIDEO BELOW:
As many of you may know, the church is going to give him a pass and say just pray for him…and I agree with prayer, but he needs to step down from that pulpit that he preaches people to hell from every Sunday and get on his knees and ask God for forgiveness. 
Hopefully, Ericka will file for a divorce and leave him in the dirt GOD made him with.