A neighbor in Brynn Marr Village Apartments in Jacksonville, North Carolina, said they called 911 after smelling a foul odor in the complex Thursday afternoon.
Upon arrival, the Jacksonville Police Department discovered human remains in the area.
One eye-witness tells The North Carolina Beat that Jacksonville Police was on the scene from about 2 p.m. until late Thursday night around 7:45 p.m.
The North Carolina Beat was able to obtain an email from Brynn Marr Village Apartments sent out to tenants Friday.
READ EMAIL BELOW: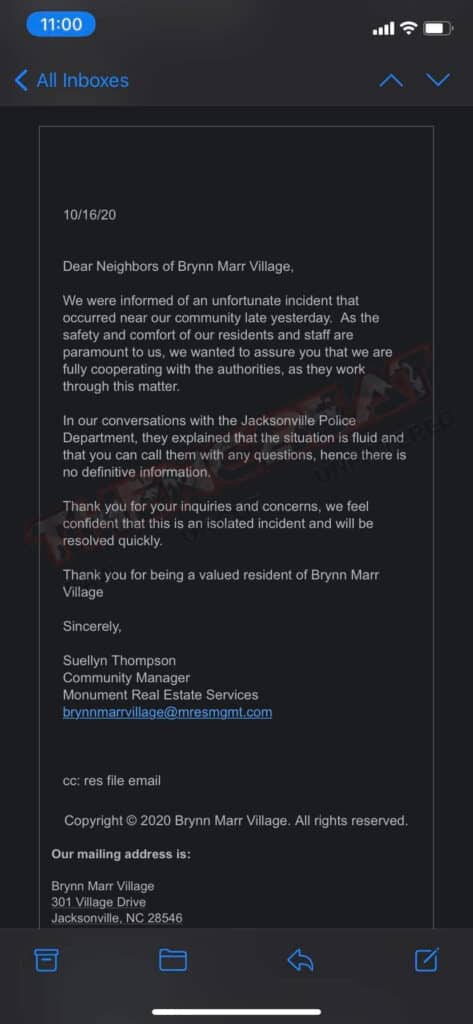 The North Carolina Beat reached out to Jacksonville Police Department for more information and they released the following statement below:
"Jacksonville Police Department is conducting an unattended death investigation. At approximately 4:00 P.M on Thursday, October 15, 2020, officers located a body within the wooded tree line adjacent to 301 Village Drive.
An unattended death is one that occurs outside of the presence of a medical professional.
This is an open and active investigation," said Captain Mike Capps, supervisor of JPD's Investigative Services Division. We are in the preliminary stages of the investigation and are unable to release any details or information at this time."
Anyone with information is asked to contact Detective John Clukey at 910-938-6409 or [email protected] or Crime Stoppers at 910-938-3273.
Crime Stoppers offers cash rewards of up to $2,500 for information determined to be of value to law enforcement.  Callers to Crime Stoppers are not required to reveal their identities. Information can also be anonymously texted via Text-A-Tip by typing TIP4CSJAX and your message to 274637 (CRIMES).
No more information is available at this time.