Perry Smith, an Ayden, North Carolina pastor, is accused of using his secret gay lifestyle to make passes at the owner of a marketing firm he scammed out of $10,000 worth of services.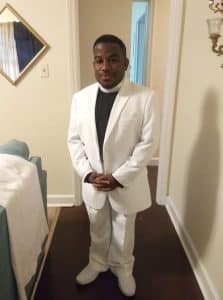 Larry Lawton, the owner of The Lawton Firm located in Statesboro, Georgia said that Smith reached out to his marketing firm in early August about helping his mayoral campaign.
Lawton told The North Carolina Beat that when he spoke with Perry about his firm's services, he learned that Perry was a pastor and said to him that his parents were also pastors and that he would look out and render services before payment long as Perry made his payments.
Lawton said as the days went by speaking with Perry, the struggling pastor began asking him questions about his sexuality. Lawton told The North Carolina Beat that he has always been open about his sexuality as a Bi-sexual man but wasn't expecting Perry to come out and ask him if he has ever slept with a pastor or not and what his position was. 
According to Lawton, Perry owes his firm $10,000 for the work that has already been done and has not paid anything.
In a string of text messages, Perry allegedly told Lawton that he would be making payments in increments, by suggesting that in August, he would pay $380 on one day, $2,500 on another day, $2,500 on the first Friday in September, and $5,000 in October.
Lawton told The North Carolina Beat that he hadn't received a dime from Perry. And you know what, I am so sick of these pastors, preachers, and prophets talking about they have the holy ghost, but the holy spirit will tell you to PAY YOUR BILLS ON TIME!
READ THE TEXT MESSAGES BELOW (Lawton is green):
In Facebook messages, Perry allegedly asks Lawton about his position and if he ever dated a pastor. Lawton told Perry that he was a top and never dated a pastor and has never thought about it.
During the conversation, Perry allegedly tells Lawton that he is a private person and a virgin. He also talks about him being in a relationship with a woman and wanting to marry a woman but what got awkward during the conversation was when Perry went on to say that he SUCKED one DICK before and how a guy wanted to fuck him. Lawton told The North Carolina Beat that he blocked Perry and ended his services for him at that point.
In a statement, Lawton told The North Carolina Beat:
No, I don't think any of the sexual comments were for payment. I think he is a ugly guy nobody wants and he is secretly gay. So, anytime some man gives him nice conversation, he feels compelled to try to have sex with them. Just my thoughts. And i just want my money
READ THE SEXUAL TEXTS BELOW:
Chile….it seems like Pastor Perry doesn't just OWE $10,000 but also his "members" an explanation as to how can he stand behind a pulpit as a gay man and preach the Word of God? Sit your ASS DOWN!!!!